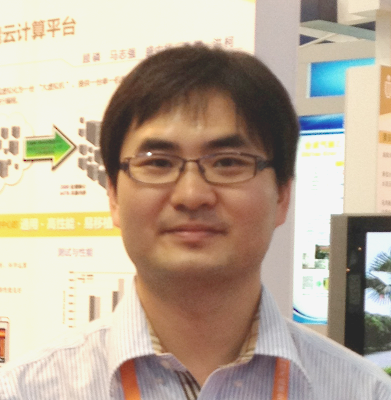 Eric is currently the co-founder and CTO of Hututa Technologies Ltd. and the father of a lovely daughter.
Homepage and projects
Eric's homepage about some of his work, projects and research: http://www.ericzma.com/homepage/.
Eric some other projects: http://www.ericzma.com/blog/projects/.
Technology
Fclose.com: Tutorials, howtos and news on Linux, programming and more.
Highly Scalable Systems: Tutorials, news, discussions on scalable systems.
Personal stuff
Blog: Eric's personal blog.
Photo Gallery: Eric's photo gallery.
Contact and social networks
Find me on Facebook, Twitter, LinkedIn and Google+.
More of Eric's contact information: http://www.ericzma.com/blog/contact/
Latest posts
Posted on Saturday February 28, 2015

VPNs are useful for testing viewing webpages from a remote location or visiting blocked websites. In this post, I will introduce a method for finding and using free VPNs on iPhone. Note that the VPNs are ...

Posted on Friday February 27, 2015

This year, I finally made it to go back to Shandong for the Chinese New Year after 5-year absence. It is warmer this year than it was usually be and new shoots are pushed out. Here are several photos I ...

Posted on Friday February 27, 2015

It is common and straightforward to make PC to use iPhone's GPRS, 3G or 4G Internet connection through the USB cable. Now during the spring festival in the country, I am facing the problem that I ...

Posted on Monday February 02, 2015

Having to go the the server room to reset servers is the most headache thing for admins managing a cluster of Linux servers in a remote site. Either you can ping the server but can not ssh to it, or you ...

Posted on Friday January 09, 2015

In Extending a Mounted Ext4 File System on LVM in Linux, we introduced how to extend a mounted ext4 filesystem on LVM Logical volume by adding a new physical volume. It is also common to shrink an ext4 ...

Posted on Tuesday October 21, 2014

A pop-up terminal is great and handy on Linux and similar OS. On KDE, Yakuake is great. On Gnome or GTK, I ever tried Guake. It is quite good. However, it has not been as mature, stable and figure-rich ...

Posted on Tuesday October 14, 2014

Recently I graduated from HKUST with a PhD degree and started my career as a software engineer at Hututa Technologies which is a HK-based startup. I am working on the Data Thinker (D-thinker) technology ...

Posted on Wednesday October 08, 2014

There was a post about installing WhatsApp on iPod Touch. However, the tech used is obsoleted. As many readers still reach here for some tips, I give two links to two posts that seem promising. But I never ...

Posted on Tuesday October 07, 2014

If your website uses a self-signed certificates, Chrome will show a warning every time and you need clicks to continue. In this post, I will introduce how to make Chrome accept self-signed certificates ...

Posted on Sunday October 05, 2014

My best favorite disk partition table manipulation tools are cfdisk/fdisk on Linux. However, for large disks, cfdisk/fdisk will just give up with a message suggesting GPT partition table format and using ...

Posted on Saturday September 27, 2014

iPhone is nice to take videos. However, one headache is the video may be rotated by 90 degree if you play it with non-Apple software such as MPlayer on Linux or Windows. This tutorial will introduce how ...

Posted on Thursday September 25, 2014

MPlayer is a great movie player. SSH is a great tool to connect and transfer data over the network securely. Combining these 2 great tools together will be greater. You may already has a small server storing ...

Posted on Wednesday September 24, 2014

The Linux kernel has a generic driver for a graphic framebuffer named vesafb on intel boxes. It provides a nice large console for most of modern displays. Setting VESA modes for Linux kernel with 32-bit ...

Posted on Tuesday September 23, 2014

The posix_spawn() and posix_spawnp() functions create a new child process from the specified process image constructed from a regular executable file. It can be used to replace the relative complex "fork-exec-wait" ...

Posted on Sunday September 14, 2014

Hadoop 2 or YARN is the new version of Hadoop. It adds the yarn resource manager in addition to the HDFS and MapReduce components. Hadoop MapReduce is a programming model and software framework for writing ...

Posted on Thursday August 14, 2014

LVM is a great tool to manage hard disks on Linux—you can abstract the hard drives away and manage logical volumes from volume groups, you can dynamically add or remove hard drives while the file ...

Posted on Wednesday July 30, 2014

Ctrl keys are important and possibly most frequently used in Emacs. However, it is painful on today's common PC keyboards since Ctrl keys are usually in the corner of the keyboard main area. Why ...

Posted on Monday July 28, 2014

git merge is frequently used during development of projects managed by git. There are many common questions about git merge and I find most are solved and discussed on StackOverflow. Here, I summarize ...

Posted on Sunday July 27, 2014

In this post, creating a file-backed virtual block device (VBD) and installing Fedora 20 in the Xen DomU via internet will be introduced. This domain is created on a Fedora 20 Dom0 as introduced in Installing ...

Posted on Thursday July 24, 2014

I ever introduced Installing Xen on Fedora 17 as Domain-0 as the first try to use the xen package delivered from Fedora and get away from manually compiling Xen and patching the kernel. In this post, I ...
Links
Tools: JPG to EPS Converter | Who am I? | ASCII Table | Linux Manual | DimJoeng
If you happened to view Eric's old homepage before and miss that one, please go here.
---
Last update: Dec. 31 2014.
Pageloads: