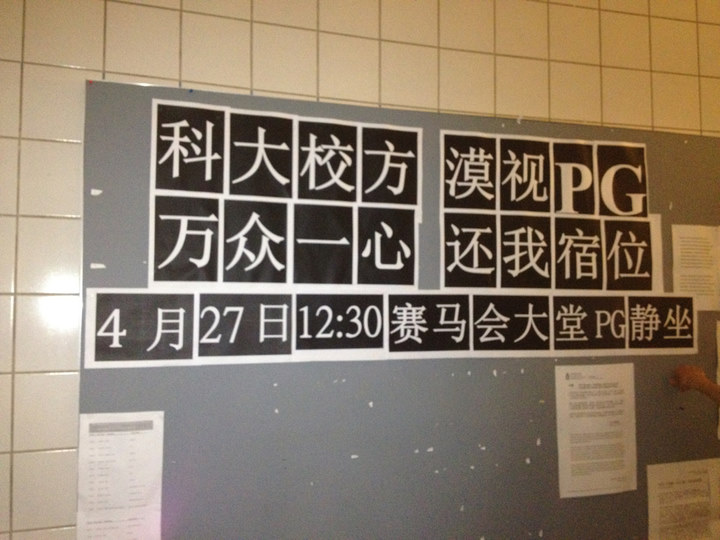 "Dear All PG Students,
静坐抗议, PG忍够了!!!
地点: 赛马会大堂
时间: 本周五(2012年4月27日) 中午12:30
着装: 黑色或白色
我们也想专注研究,可是保障安心学术的宿位都受到影响,我们怎能继续无视?
我们也想泰然处之,可是周边的房价一天又一天不断攀升,我们怎能继续旁观?
我们也想冷静理智,可是学校一次又一次漠视我们的诉求,我们怎能继续沉默?
我们也想恭敬忍让,可是我们只是要求最基本的生活保障,我们怎能继续后退?
请不要再无视,请不要再旁观,请不要再沉默,请不要再后退!
我们一直在做最大的努力,可是还有谁比你自己,更适合维护自己的权益?
4月27日,中午12点30分,赛马会大堂静坐活动,期待大家的加入!
万众一心,还我宿位!
烦请相互转告.
科大研究生宿舍行动小组
2012年4月24日
==============================
Sit-Down Strike for PG Housing Issue!
Venue: ATRIUM
Time: FRIDAY (APR. 27, 2012), 12:30pm
Dress code: BLACK OR WHITE
Dear HKUST RPG Students,
Regarding our previous meetings with the SHO, Provost, and the Deans of the Departments, we, a group of RPG students, submitted four proposals for the university to be implemented, including: 1) renting off-campus block; 2) giving subsidies for the students who live off-campus; 3) changing 4-bedroom apartments to 6-bedroom ones; and 4) consigning empty spaces in Tower C to the RPG students. Unfortunately the only measure taken by the university was to increase the number of bedrooms by only 50 (!!!) which is negligible in comparison with the 450 students that will not be assigned any bedspace during the next year. We believe that this measure was only taken in order to button the students' lips and make them believe that they have done SOMETHING.
However, it is our responsibility to raise the voice of the voiceless and reiterate the concerns of the RPG students about the serious housing issue. In order to bring our concern into practice, we have decided to invite you to a "sit-down strike" held on Friday (Apr. 27, 2012) at 12:30pm in the Atrium. It would be appreciated if you could dress up only in black or white. Your presence is a warm support for all the RPG students and at this critical moment, we would like to make the university recognize our civil rights.
Thanks & Regards "
---
Why RPG have to choose "Sit-Down Strike for PG Housing Issue"?
Here is a list of the RPG's effort and how the university responded:
Feelings and thoughts from the HKUST RPG students:
---
During the Sit-Down Strike for PG Housing Issue on Apr. 27
展板宣言
展板一:
不给钱,不给房,逼得学生坐大堂。
推责任,乱施压,关心学生是空话。
忙赶人,忙放债,无情学校谁再来。
展板二:
学校保证12个月的PGS?借花献佛表面文章!
无息贷款交纳押金?荒谬无耻闻所未闻!
50个宿位的改造计划?敷衍塞责杯水车薪!
校内中介租房展览?昭告全港催人涨价!
提供晚间穿梭巴士?避重就轻隔靴搔痒!
Photos
More photos photos 1, photos 2, and photo 3.
---
After the Sit-Down Strike
427活动简短纪实 by Mr. Hao Hu on Apr. 27
同学共勉 by Mr. Shigu Cao on Apr. 28

Posts on the Big Character Board at LG1 on Apr. 28
---
Voices
"科大,你可以赢得和学生的每一次战斗,但你最终会输掉整场战争。"
"如今科大才成立二十年,总共的研究生也就十七八届,如果这次的事情处理不好,上下四五届PG都会对科大有怨言。你有多少人心可以这样挥霍?" — Chao Yang
"你跟他谈法律,他说法律无效。
你跟他谈经济,他说完全够活。
你跟他谈数量,他说无能为力。
你跟他谈改建,他说政策所限。
你跟他谈补贴,他说非我可控。"
"我明白学校的这张笑脸只不过是如同Joker一样,把嘴上硬生生的划了两刀而已。" — Hao Hu
"世界上有什么能让我们只知道埋头苦干的PG如此愤怒?只有另一个世界才有的冷漠!" — Shigu Cao
---
"當納粹追殺共產主義者
我保持沉默
——我不是共產主義者
當他們追殺社會民主主義者
我保持沉默
——我不是社會民主主義者
當他們追殺工會成員
我沒站出來說話
——我不是工會成員
當他們追殺猶太人
我保持沉默
——我不是猶太人
當他們要追殺我
再也沒有人為我說話了"
— 起初他們……
---
All photos